Access to Shinagawa Ward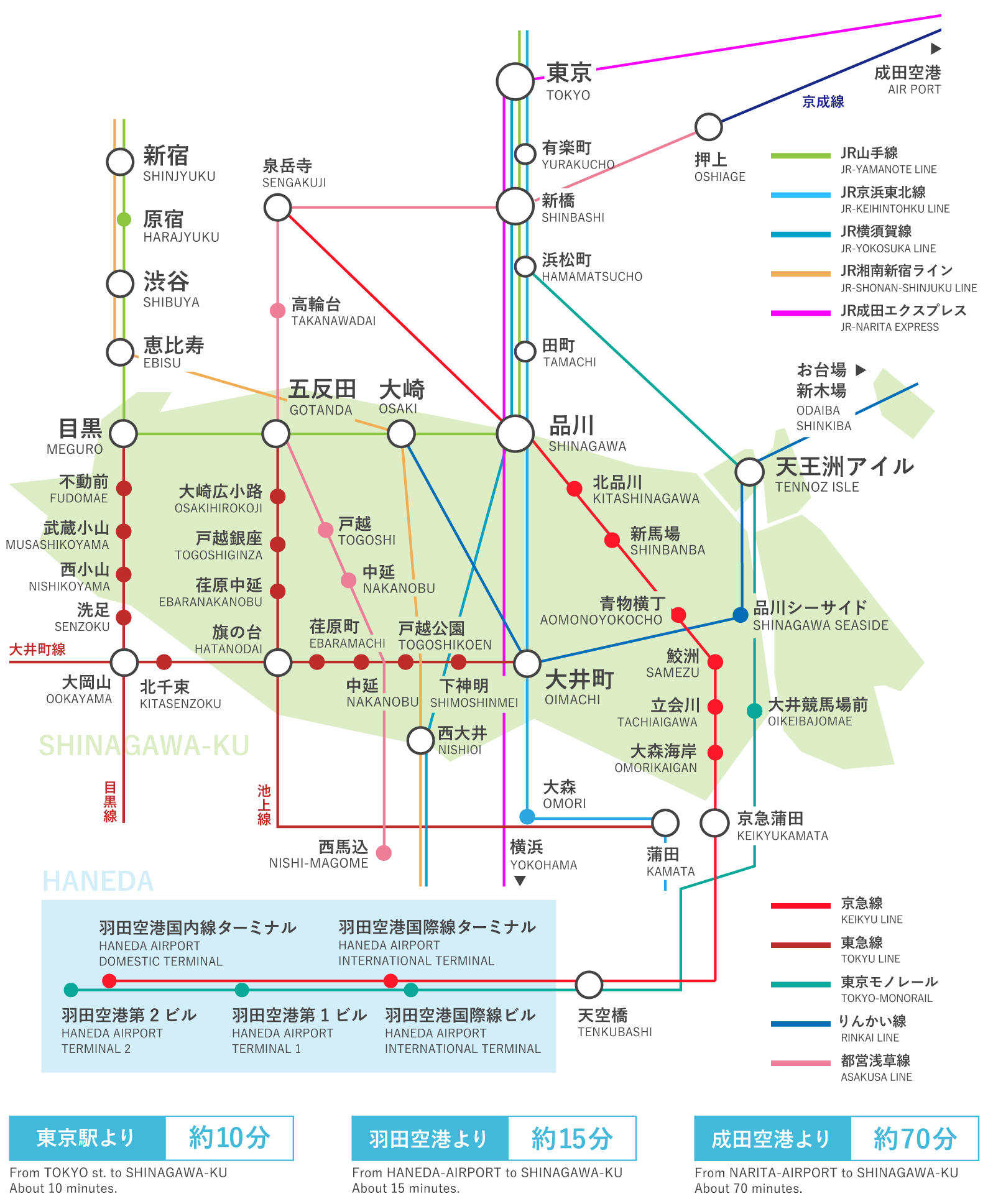 Excellent access from domestic and overseas! Watch, play, stay in Shinagawa
Excellent access from domestic and overseas!
Watch, play, stay in Shinagawa
---
Shinagawa Ward is close to major terminal stations such as Tokyo, Shibuya, and Shinjuku, and all of Tokyo's leading tourist attractions such as Odaiba, Asakusa, and Tokyo Tower are within 30 minutes. The fastest access from Haneda Airport to Shinagawa Station is 11 minutes, making it easy to access from Japan and overseas.
Shinagawa is a city where you can enjoy a variety of short trips such as visiting historical sites and visiting shopping streets, as well as staying as a base for sightseeing in Tokyo. There are many railway lines running in the ward, such as JR, Tokyu, Keikyu, Toei Asakusa Line, Rinkai Line, and Tokyo Monorail.
If you use the bus or share cycle, you can move smoothly to each area in the ward. The Shinagawa Tourism Association sells the Shinagawa Ward Share Cycle "1 Day Pass" (2,160 yen).
Access to Shinagawa from the main terminal
---

Railroad
Tokyo Station → Shinagawa Station JR Tokaido Main Line 8 minutes
Shibuya Station → Shinagawa Station JR Yamanote Line 12 minutes
Shinjuku Station → Shinagawa Station JR Yamanote Line 19 minutes
Haneda Airport International Terminal Station → Shinagawa Station Keikyu Line 11 minutes
Haneda Airport Domestic Terminal Station → Shinagawa Station Keikyu Line 14 minutes
Narita Airport → Shinagawa Station JR Narita Express 1 hour 10 minutes
---

Car
Haneda Airport → Shinagawa Station Approximately 30 minutes
Tokyo Station → Shinagawa Station Approximately 20 minutes
Ginza → Shinagawa Station about 15 minutes
---

Limousine bus
Traffic information in Shinagawa Ward
---

Railway line
---

Bus route
---

Rental cycle
---

Taxi company